Gone those days when phones' functions were limited, only call making and receiving. In the wake of technology, phones are for ordering food, offering you customized medical aid, delivering groceries at your door-steps, and doing all that you can ever imagine.
All thanks to on-demand mobile applications!
Airbnb, Netflix, Amazon, Uber, and many more apps that are there in your smartphones are the example of on-demand apps. The on-demand mobile application industry is growing each passing minute and has a bright future. And why it shouldn't be? By bringing vendors and buyers at a centralized place, these apps are leveraging businesses at every level.
From users' point-of-view, on-demand apps eliminate the need to reach the door of the service provider. Instead, it brings services at your door-steps. The easy accessibility to the service that on-demand apps bring in lives makes it a must-have for the millennial generation.
Why should you invest in an on-demand app for your business?
Today, more than 80% of businesses are offering on-demand apps for their business. There must be some fundamental reasons behind such immense popularity, right? Yes, there are, and we have bought them for you.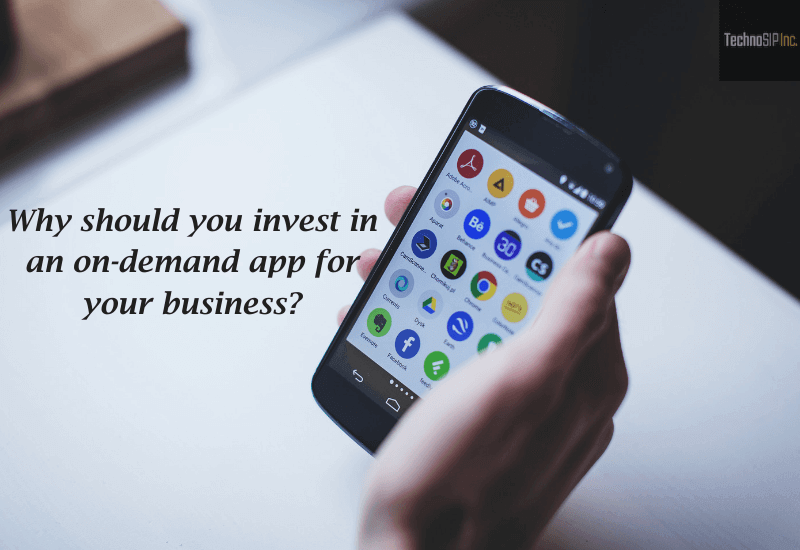 Easy, affordable, and result-oriented accessibility to the consumer market
It does not matter what kind of business you run; you want to have easy accessibility in the consumer market. With 2.7 billion+ smartphone users in the world, the on-demand app is an ideal way to target the actual audience.
With the on-demand app, your business can become easily accessible, and your consumers don't mind to hire your services. For example, if you run a restaurant business, then your revenue is dependent on the people who show up at your restaurants. However, with the on-demand food delivery app, those who are in the comfort of their living room and don't want to step out of the house can also avail of your service. That means you get excellent customer exposure.
With on-demand apps, you get instant payments for your service. As soon as the customers pay for your service, the payment redirects to your linking bank account. It is way easy and hassle-free from the traditional face-to-face business transactions.
Running your business through the on-demand app is way pocket-friendly than conventional business operations. You need not have a proper physical business point and acquire basic logistics. For example, if you wish to open a restaurant business, then you need to set-up it, hire the staff, and handle other operations. However, with the on-demand app, you can easily run business with few logistics.
On-demand apps eliminate various business processes and help you do direct delivery to the consumers. This increases your service delivery capacity and enables you to gain great significance in the consumer market.
Have you ever wondered why you get your favorite pizza at a discounted price while you order it from your favorite on-demand food delivery application?
Well, because it's easy and affordable for the restaurant to deliver the pizza at your door-step rather than serving you in the restaurant.
As business operations' cost with the on-demand business app is way cheaper than a conventional business method, you can offer your services on discounted prices. This is what makes you get high customer retention with minimal efforts.
Features that should be in your on-demand app
So, by now, you have understood the importance of on-demand apps for your business. Now, it's time to ponder over some of the key features that your app should have.
Whether you are getting a consumer app or an admin app, you need to have a user registration feature as an essential thing in your app. Make sure that the app should have one-click registration. Almost all the leading on-demand apps offer email or Facebook-based online user registration facility, which is easy and quick as the end-user need not to fill in all the contact details again and again.
Your on-demand app should have precise service listing so that your customers can easily know what all you are offering. While offering this feature, make sure that the navigation should be easy and hassle-free so that your customers should land on the right service page.
Flexible yet secure payment gateway
While you are selling your services, getting paid faster is what you seek at the end of the day. On the other end, your consumers want flexible payment gateway that is secure enough to safeguard them against any online payment fraud. While you are getting an on-demand app for your business, make sure it should have credit card/ debit card, net banking, and any other third-party integration with high-grade security encryption.
Order tracking or delivery confirmation
Real-time order tracking is a mandatory feature for your app. With this feature, users could easily track the order process at every stage. This feature also sets you free from handling order related queries.
An integral part of any an on-demand delivery app, push notification feature helps customers to stay updated with the order progress, on-going offer, and any upcoming event.
In-app messaging is an ideal way to offer time-bound customer support to your support. With this feature, your customers can send any of the service/product related queries and get immediate assistance. For example, an in-app messaging feature for a taxi booking app helps users to chat directly with the driver about the arrival timing.
Do you want that more and more people should book your services?
Don't forget to get the existing users' reviews and ratings and use them to promote your service.
Positive reviews and ratings influence a prospective buyer's behavior a lot. So, make sure that your on-demand app should have a real-time review and rating gathering feature.
Final Word
Success comes with hard and smart work. Getting an on-demand business app is among those smart moves which can bring business success in no time, provided you choose the right resources & path for the job. So,hire on-demand app developers from us and ensure your success.