TechnoSIP's hybrid app development solutions are robust, high-performing, feature-packed and built to be both scalable and secure, able to handle any business and IT needs.
Hybrid application development employs native app features and capabilities and also serves to put companies and developers on the path towards the adoption of HTML5 mobile app development. Basically a hybrid app is a native app that runs most, if not all, of its user interface in an embedded browser component. To users, native apps and hybrid are nearly indistinguishable from one another: both are downloaded from a place like Apple's App Store or Google's Play, both are stored on a mobile device, and both are launched in the same way. The real difference is on the hybrid app development side by developers. So instead of having developers recode the app from scratch for each mobile platform, they are writing part of the app's code in HTML5, CSS3 and JavaScript, giving them the ability to reuse it across multiple mobile operating systems.
Hybrid Mobile App Development Services
TechnoSIP provides complete end to end hybrid mobile app development solutions. We are able to combine the power of HTML5 development with the latest mobile device frameworks, such as PhoneGap, to create native looking apps for all the major mobile platforms like iOS (iPhone & iPad), Android and Windows Mobile.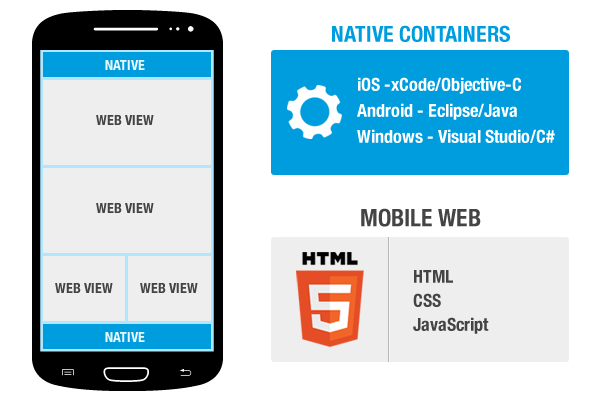 Benefits of hybrid mobile app development include :
Create using HTML5, CSS3 and JavaScript
Cross-platform/multi-platform development
Use of open source technologies like PhoneGap, SproutCore and Sencha
Highly interactive and impressive user interfaces
Cost-effective
Hybrid Mobile App Developers
TechnoSIP's expertise in hybrid mobile application development is supplied by its extremely experienced and technically savvy development team. Our developers possess advanced proficiency in HTML5, CSS3 and JavaScript and in leading technologies such as PhoneGap, jQuery Mobile etc. Most importantly, our hybrid mobile app developers have a lot of experience in building apps that provide a unique user experience. Our hybrid mobile app development team is able to create custom hybrid mobile apps that will work across multiple platforms and devices, helping clients to reduce costs, achieve a quicker time to market delivery and reach a broader audience.
TechnoSIP Review on Hybrid App Development
Hybrid app development is going to grow and become more important as other platforms (Google Glass, Apple Car, etc) become viable platforms for app developers. We will for a moment have so many platform entrants to the space, that hybrid development with native tweaks will become mandatory.