SaaS/API integration is a step toward digitization and seamless flow of data between various application in the organization. API can be defined as "The allowance and processes to give programs access to connect and communicate with other programs. It's a software-to-software interface that allows for a separate piece of codes/services to talk to each other without any previous user knowledge."
It runs the processes behind the scenes and most of the time, an end user is unaware of any 3-rd party integration. For example, Many online stores use 3rd party Payment Processing API (Paypal, Authorize.net etc) to process real-time and subscription-based transactions(SaaS).
You can leverage on TechnoSIP Inc team knowledge and expertise integrating various API like Paypal, Authorize.net, Sendgrid, Mailchimp etc. 3rd-Party API integration is part of our daily development lifecycle and we are best in it. Whether its famous API or not, we can handle any type of API integration easily.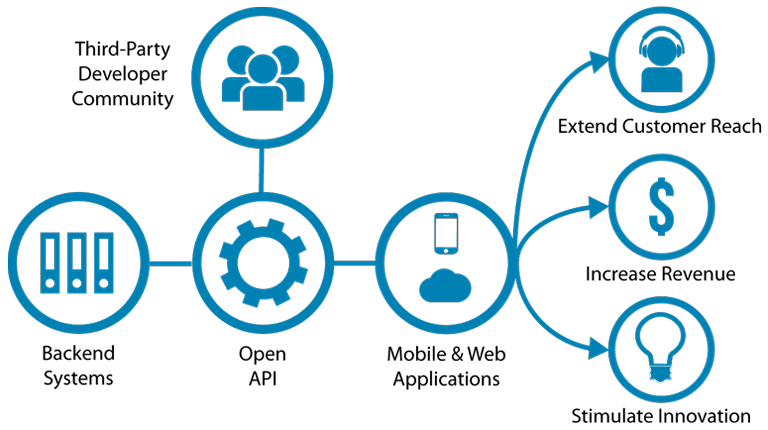 A third party API integration interface is a document, supplied by 3rd party software vendors, that contains all of the technical details required for programmers to integrate software into a custom application. Our developers excel at writing applications that integrate with other systems.
Our SaaS/API integration services help you integrate data with third-party, in-house, legacy applications to achieve seamless flow and access of information across various applications silos. We can also consume data from a wide range of third-party sources. In addition to diverse domains such as Banking, CRM and social media, we have extensive experience working with data-driven platforms.
To name few out of many projects and third-part API's integrations we have done :
Stripe
Authorize.net
ACH Banking API
Salesforce
Intacct
Quickbooks
Paypal
Sendgrid
Mailchimp
Hubspot
Facebook
LinkedIn
Instagram
Songkick
Google Map API
Firebase
Mailgun
Twitter
Parse
To find out how we can help your business leverage 3rd party APIs, discuss your requirements with our expert team today.