Our consulting team strives to provide our clients quality framework and process backbone for their business and ideas. We help them achieve success in their business by affording satiating and creditable Consulting services & solutions. Our success lies in our patron's success. We make our clients comfortable by providing such a professional work environment where our consulting experts probe their needs and deliver solutions that are most suitable for their business.
Key Concepts of our Staff Augmentation Model Best suited for IT companies looking to outsource one or more of the phases in the Software Development Life Cycle. Project is managed by your company or Management is shared depending on your needs You have direct access to the programmers assigned to your project Billing is calculated on a per-hour basis.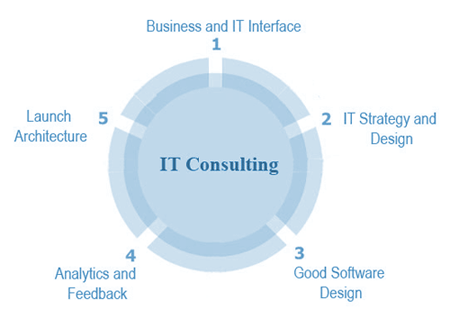 Key Benefits of our Staff Augmentation Model :
You have the highest degree of control over the projects.
It is a very Low-risk alternative to outsourcing your development projects.
Allows you to evaluate us while we establish the basements for a long term relationship.
All of your resources are dedicated exclusively to your development team.
You gain access to a pool of multi-disciplinary IT resources through one single provider.
Takes away the burden of recruitment, training and retaining Cost-effective resources, flexibility and time-to-market advantages.
Allows you to rapidly and easily increase the size of your development team.
"Staff Augmentation", is our best proven approach.
In the staff augmentation model, we at TechnoSIP host a team of programmers that are exclusively assigned to your company. In this case, this team of people is at a high level managed by your own staff. In this scenario we say "at high level" because even though your project managers may be assigning tasks, evaluating performance or requesting a certain activity from your programmers, it is still our responsibility as a company to monitor your personnel and also keeping you informed at all times about the progress of your projects and the activities of the people involved.Our experience shows that the level of management cooperation may vary depending on the customer's specific needs and his approach towards Outsourcing.
In any case, and this is what we usually recommend, communication and overall performance of programmers is best when management is shared.
In this case, we at TechnoSIP assign what we call a Project Leader. This Project leader is also part of your team of programmers but he or she is the person who will be the primary link between your company and your outsourced team. It is this person who is in charge of communicating with you and understanding your needs. He would also "negotiate" your project's deadlines and assign activities to your programmers based on the deeper knowledge he has about the programmers' skills and experience.For both cases what we have here is basically that you would keep in-house the definitions in terms of analysis, design and general architecture of your project while you'd be outsourcing exclusively Programming activities.
Of course, analysis and design activities may also be outsourced; in fact there always exists some overlapping between these tasks and programming. But what we recommend is to start only with programming and then, once the communication process is refined and both teams start acting like one, more and more activities can be shared between the two companies. In this model, billing is calculated on a per-hour basis.
To find out more about how our staff augmentation services can deliver IT value to your company, contact us today.