Our easy-to-use solutions can help you predict future customer needs, detect and prevent threats, and guide frontline decisions with forward-looking insights.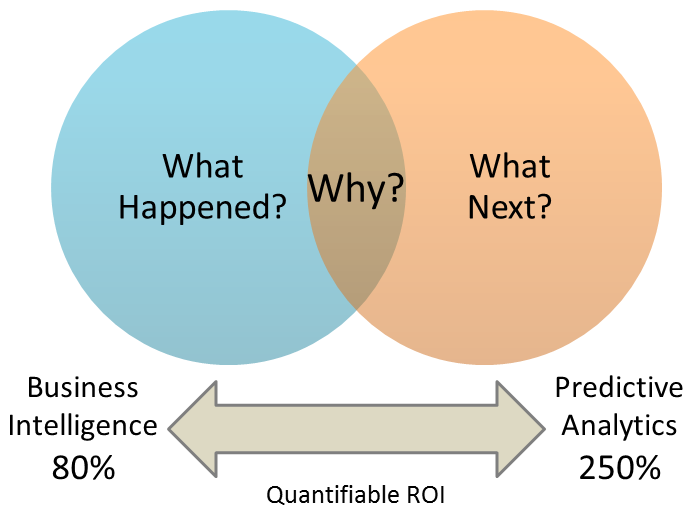 Analytics is a hot field today, and more companies than ever are applying the power of analytics across their business. These firms are competing based on analytic innovation, moving up from simple Business Intelligence to the power of predictive analytics.
Solution Capabilities
Predictive Modeling - Create a predictive modeling environment for both business analysts and data scientists. Give them the automated tools they need to build sophisticated predictive models for every data mining function imaginable – in days, not weeks or months.
Predictive Scoring - Select the most important variables when explaining a given business question – using predictive scoring. Graphically display each variable's contribution to a business model, simulate models for a single input data set, and predict the score for concerns in real time.
Predictive Model Management - Empower business users to ask more "what if" questions and get immediate answers with hundreds – or even thousands – of predictive models at their fingertips.
Predictive Network and Link Analysis - Explore the links between your customers and network of strong social influencers – with real-time analytics for predictive network and link analysis. Create a graph for every possible type of product or entity association, and use the data to achieve advanced personalisation that helps keep customers loyal.
Predictive Data Management - Define a broad set of reusable business components to automatically create the analytical data sets you need for business modeling. With this approach, you can analyse data faster and achieve results with far less human error than traditional, handcrafted techniques.
TechnoSIP Review On Predictive Analysis
Predict and influence business outcomes – and respond to change before it happens – with predictive analytics from TechnoSIP. Combine capabilities such as predictive modeling, Big Data mining, real-time business intelligence (BI), data visualisation, and more, to see what trends are emerging and where performance is headed.